End frustrating work delays due to bad weather
Say goodbye to unscheduled hold-ups on jobs due to the weather, and hello to completing your project on time and within budget! We specialise in scaffold wrap installation for commercial and residential building projects, including home repairs and renovations, and also demolitions.
Sorting your scaffolding
We can manage the entire encapsulation process for your project by designing the wrap and scaffolding at the outset, so it matches your access and work requirements and provides the correct support for shrink wrapping. We then call on our approved suppliers to erect the scaffolding before we install the wrap.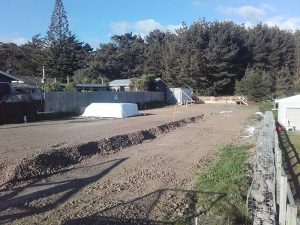 How the installation works
We attach the plastic wrap to the scaffolding at the top and base of the building. It adheres to itself, creating a tight cover-wrap. Once fitted, we never normally need to adjust it. The heat treatment we apply to the plastic to warm it up and shrink it poses no risk of damage to the building. The installation is completed quickly, and the covering is rigid once in place and completely weather tight, while allowing natural light through.
Where required, we supply additional zip-doors to improve site access, windows for extra light, and ventilation ducting that are all easy to install.
Once we've done your scaffold wrap installation, your team can progress the construction, renovation, or leaky home re-cladding job almost as if they were indoors. From digging footings to exterior painting, your tradies and staff will be dry and safe as they work. Your productivity will improve, and without weather interruptions the home owners can get back into their property sooner, or even remain in situ while the work is completed.
Find out more about us and our process.
Containing and enclosing industrial and hazardous materials
We provide shrink wrap enclosures that completely contain hazardous residuals from sandblasting, or toxic materials from the removal of asbestos, lead, and heavy metals.
Other applications where we provide containment and enclosure solutions:
Armed forces
Bridge construction
Dust proofing
Glass crushing and recycling
Natural disasters
Rust scaling
Spray painting
Storing your boat or car
There's no need to resort to expensive storage solutions for your valuable assets – let us shrink wrap your boat or vehicle to keep it safe, dry and secure while you're away. We wrap boats from dinghies to super yachts in the yard or on the water.
Wrapping for transportation
When you're moving goods from place to place, protect them from the elements and damage with our shrink wrapping, which can mould itself around even the most angular and complex shapes. We can effectively seal any sized load – pallets, mechanical and industrial equipment, wood products; even vehicles, yachts, aircraft and helicopters!
Wrap your party
Don't let inclement weather put a dampener on your event. We can provide weatherproof tents for your party, gig, or performance. We'll protect your stage, equipment and performers against the rain and wind.